Best Tracker for Heart Health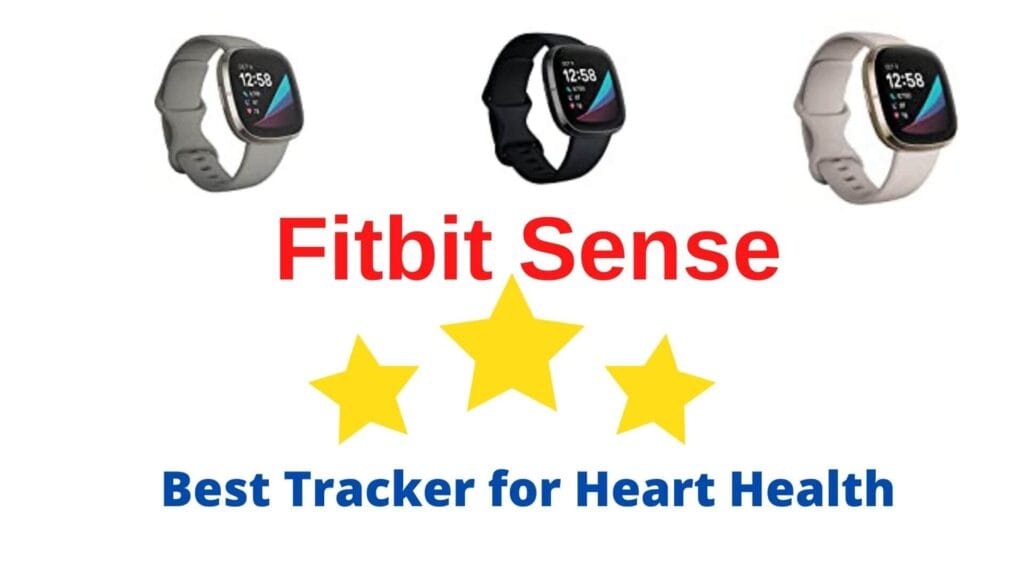 February, American Heart Health Month. So we had thought to bring a Heart Health Tracker to the lime light at an affordable price. 
Why do We say this is best?
We have primarily checked for heart health priorities on the trackers. Surprisingly we have found a tracker with ECG, Wow that's amazing.  
Heart Rate monitoring 24*7, Notifications for Low and High heart rate, checks for stress, Stress management, Oxygen Saturation, Sleep, breath, temperature, and much more.
Yeah, this may be the alternative for Apple devices, and we do agree that there may be other trackers with more features and with a more price. 
We have chosen this tracker as best for these below-listed Features.
Fitbit app for ECG
One of the best features, we think in this tracker. Assess your heart for atrial fibrillation a heart rhythm irregularity with a suitable ECG app on your wrist. 
App for EDA Scan
The on-wrist EDA Scan app measures electrodermal activity, which could suggest your body's stress response, and displays a graph in the Fitbit app to highlight it.
 Heart Rate Monitoring 
Heart Rate Monitoring is available 24 hours a day, seven days a week.
Sense introduces PurePulse 2.0, Fitbit's 24/7 continuous heart rate tracking for exercise, sleep tracking, and everything in between, thanks to an all-new multipath sensor.
Notifications for High and Low Heart Rates
Because your heart rate is an important sign of your health, Sense notifies you when it is above or below your range.
Variability in Heart Rate
Monitor your heart rate variability (HRV), which is the change in the time between each heartbeat, to detect if your body is displaying signs of stress, illness, or tiredness.
Stress Management Rating
With a daily score, you can better understand how your body handles stress.
Reflection
To help you reflect on what makes you feel your best, just report your mood on Sense after an EDA Scan session or in the Fitbit app, from very stressed to very relaxed.
Sleep Stages and the Sleep Score
To better understand your sleep quality each night, view your time in light, deep, and REM sleep and receive a daily Sleep Score on the Fitbit app on your wrist.
 Breathing Rate
Measure your breathing rate automatically while you sleep to help you understand your wellness and learn if there are any symptoms of substantial changes. 
Snore and Noise Detection
Determine whether you snore or whether there is ambient noise in your bedroom, both of which might have an impact on your sleep quality.
Smart Waking
To feel more refreshed, set your Fitbit alarm to wake you up with a gentle vibration during a lighter sleep stage.
Menstrual Health Monitoring
Learn more about your body by logging periods, recording symptoms, tracking ovulation, and discovering trends in your cycle with Sense and the Fitbit app.
Tracking of Oxygen Saturation (SpO2) 
SpO2 (the level of oxygen in your blood) to assist you in determining when there may be an indication of significant changes in your health.
On-Wrist Skin Temperature Sensor
Monitors your skin temperature at night and displays how it differs from your baseline.
20 Exercise Modes with Goals 
Select from up to 20+ exercise modes to get real-time stats during your workouts—or let SmartTrack recognize and record your exercises automatically.
 Active Zone
By buzzing your wrist when you approach your personalized goal heart rate zone, Active Zone Minutes helps you make every minute count during exercises.
Zones of Heart Rate
Get real-time metrics on your screen during workouts to determine if you're in the fat burn, cardio, or peak zone, so you can adjust your effort accordingly.
Workout Intensity Map
Check your workout intensity map in the Fitbit app after outdoor activity to observe your heart rate zones throughout your route and discover where you put in the most effort.
Tracking Activity All-day
Track your entire day's activity, such as steps, distance, floors climbed, active minutes, and calories burned, to see how each section of your day helps you get closer to your goals.
Waterproof
Swimproof Sense is water-resistant to 50 meters, so you can track laps in the pool, wear them to the beach that's your choice to make.
So What are you waiting for?…
 Check and buy one for you or buy one for your loved ones, and start monitoring Heart Health and other health priorities.