Why FDA Approved 2nd Covid-19 Vaccine Booster? All you need to know.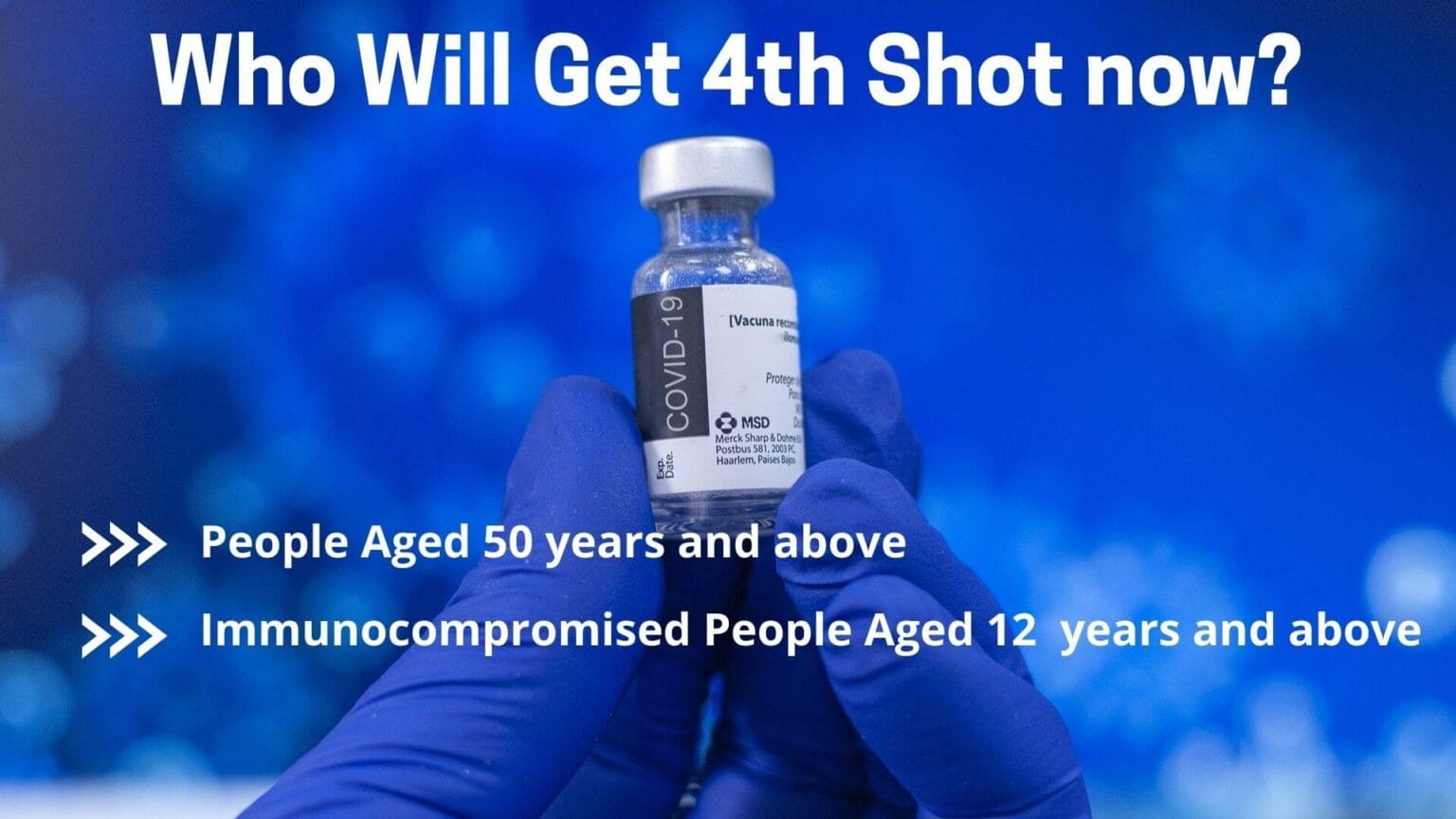 March 30, 2022. 00:05:24 Minutes read.
If you are aged over 50, it is time to get your Covid-19 Second booster shot!
The FDA has authorized a second booster shot of the vaccines made by Pfizer-BioNTech or Moderna for adults aged 50 years and older, which means it is time to get yours. This second Covid-19 vaccine booster is to be given at least four months after the first Booster of any authorized or approved Covid vaccine. 
The second booster means the fourth shot for those who already got three doses of an mRNA vaccine. A second booster would be the third shot for those who received one dose of the Johnson & Johnson vaccine and a booster shot of an mRNA vaccine.
In addition, people aged 12 and older with compromised immune systems can now receive an additional dose of the Pfizer vaccine, and those 18 and older with compromised immune systems can receive an additional dose of the Moderna vaccine.
CDC Director Rochelle Walensky said it was "This is especially important for those 65 and older and those 50 and older with underlying medical conditions that increase their risk for severe disease from COVID-19 as they are the most likely to benefit from receiving an additional booster dose at this time".
Two weeks ago, Pfizer asked the FDA to authorize a second booster shot of its vaccine — that is, a fourth dose — for people aged 65 and older. Two days later, Moderna asked FDA, but with a broader request to authorize a second booster for all adults over 18.
Even before these requests, the leaders of these companies appeared on television shows and have spoken need for another round of boosters for everyone. Where they have mentioned an Israeli study, that found the 4th shot vaccines effects on 18 years old and above.
Affiliate Disclosure: A few links on this page are affiliate links, from which I receive a small commission from sales of certain items, but the price is the same for you. Thank you for the Support.
CDC Suggest "mRNA shot now" for those who got the J&J vaccine.
The CDC has declared that adults who received two doses of the Johnson & Johnson vaccine may opt for a booster dose of an mRNA vaccine if they want to increase their level of protection against COVID-19.
The agency said it based its recommendation in part on a new study showing that two doses of the Johnson & Johnson vaccine offer less protection against Covid-related urgent care and ER visits than an mRNA booster.
Is BA.2 Variant Dominance in the USA bringing the fourth dose?
The authorization of fourth shots comes as a more contagious omicron subvariant, BA.2, has caused new waves of infection in major European nations and China, which is battling its worst outbreak since 2020. BA.2 has gained ground in the U.S. 
The highly contagious Omicron subvariant BA.2 is now the dominant coronavirus strain in the United States, causing more than half of all Covid-19 infections last week, the US Centers for Disease Control and Prevention said Tuesday.
The new numbers come from the CDC's genomic surveillance. Based on its models, the agency says that BA.2 caused between 51% and 59% of all new Covid-19 infections in the US the week ending March 26, up from an estimated 39% of all new infections the week before.
Studies have determined that the BA.2 variant of Covid-19 evades vaccinations about as well as the original Omicron strain did, so boosters are needed to restore protections against these variants. But less than half the US population 12 and older have had a recommended third dose, leaving us vulnerable to new strains.
Of greatest concern are adults aged over 65 years, because they are most likely to become severely ill with Covid-19. One out of three people over 65 in the US hasn't had a critical third vaccine dose.
"The real problem is that so much of our population is undervaccinated seniors," said Thomas Frieden, former director of the Centers for Disease Control and Prevention. "That's our Achilles heel."
 Although animal studies indicate that BA.2 infection is not entirely mild, data from human infections indicate that it is not more likely to result in hospitalization when compared to BA.1. 
The UK Health Security Agency updated its data on vaccine effectiveness against this variant this week and discovered that boosters are still 90% effective at preventing severe disease in people over the age of 65. This information points to an essential way to ensure that this variant does not have a serious effect on us.
What did Experts say about the Covid-19 Vaccine 2nd booster?
Although many scientists are skeptical about the decision, the Food and Drug Administration has authorized Americans to receive a fourth booster shot of the Pfizer vaccine. 
The authorization allows anyone over 50 years old to receive another vaccine shot. However, experts pointed out that the limited research so far suggests that only people older than 65 or those who have underlying conditions should get a fourth shot due to their high risk of dying from Covid-19.
The most compelling data comes from an Israeli study, which found that adults older than 60 who received a fourth dose were 78% less likely to die from Covid-19 than those who got only three shots. This study was posted online last week and has not yet been reviewed for publication in a scientific journal.
The director of the Vaccine Education Center at Children's Hospital of Philadelphia, Paul Offit, MD, has a theory about people who are getting or considering getting a fourth dose of the COVID vaccine.
"Who makes the choice to get the fourth dose? Someone who is attentive to their health, who's more likely to exercise, is less likely to smoke, is more likely to wear a mask," Dr. Paul Offit said.
The FDA will convene a panel of vaccine experts on April 6 to discuss the plan. They will talk about the efficacy of booster shots and the potential need for a variant-specific booster instead of continual booster shots designed for the initial strain of Covid-19.
A decision would likely be made later this summer or fall.
For now, the feeling is that there is ample time to make that decision because boosters continue to show good protection among younger people.
Dr. Peter Hotez, a vaccine expert at the Baylor College of Medicine in Houston, believes that the only purpose of the shots is to keep people out of the hospital.
 On the other hand, Hotez said vaccine policy should also seek to prevent infection and long Covid. The effectiveness of the third dose against hospitalization from omicron has also declined over time, he said.
WHO's advisory expert group, TAG-CO-VAC  said in a statement that it "strongly supports urgent and broad access to current COVID-19 vaccines for primary series and booster doses, particularly for groups at risk of developing severe disease, given that current COVID-19 vaccines continue to provide high levels of protection against severe disease and death, even in the context of the circulation of Omicron."
John Wherry, director of the Institute for Immunology at the University of Pennsylvania, said, "I'm a firm believer in vaccines. I like the idea of physicians and immunocompromised and high-risk patients having options." 
Why should you take Covid-19 Vaccine 2nd Booster?
According to FDA, Based on an analysis of emerging data, a second booster dose of either the Pfizer-BioNTech or Moderna COVID-19 vaccine could help increase protection levels for those at highest risk of serious outcomes from COVID-19.
Peter Marks, M.D., Ph.D., director of the FDA's Center for Biologics Evaluation and Research, said, "Current evidence suggests some waning of protection over time against serious outcomes from COVID-19 in older and immunocompromised individuals," and added, "Based on an analysis of emerging data, a second booster dose of either the Pfizer-BioNTech or Moderna COVID-19 vaccine could help increase protection levels for these higher-risk individuals."
The prompt reason was given by FDA for the 2nd booster and you have got the reason for your 2nd booster or 4th shot of Covid-19 Vaccine, Now, it is time to Get ready for your jab!