Why are Covid-19 Cases uptick in New York? Answer: BA.2.12.1.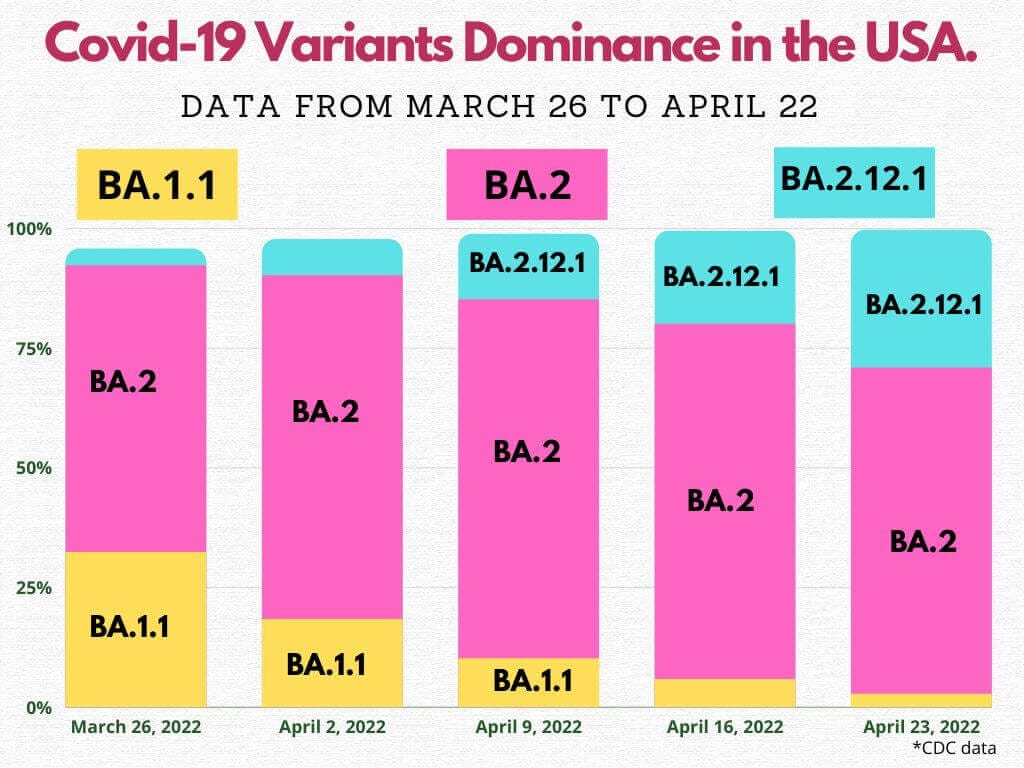 April 3, 2022.| 5 Minutes read.
Affiliate Disclosure: A few links on this page are affiliate links, from which I receive a small commission from sales of certain items, but the price is the same for you. Thank you for the Support.
As Per CDC's Monitoring variant proportions update as of April 23, 2022, New York has the Highest BA.2.12.1 cases, 58.9% of New York covid infections are by BA.2.12.1 variant. 
BA.2 and BA.2.12.1 Both are Omicron's subvariants. But BA.2.12.1 sub-variant is 25% more transmissible than BA.2. This is the reason for the uptick in covid-19 cases all over the USA, and New York state has become a hotspot for increasing Covid-19 cases caused by this BA.2.12.1 variant. 
According to CDC data, as shown in the photo above, BA.2.12.1 was responsible for 29% of new coronavirus infections as of mid-April. This is an increase from 19% of cases the previous week and 14% of infections the first week of April. BA.2 and BA.2.12.1 sub-variants now dominating, So the question is, Why are Covid-19 Cases uptick in New York? Answer: BA.2.12.1. Not only in New York, Soon, but this variant will also be a dominant one in the entire USA.
What did CDC Director Dr. Rochelle Walensky say about BA.2.12.1 variant?
CDC's Transcript for CDC Media Telebriefing: Update on COVID-19 (April 26, 2022), CDC Director Dr. Rochelle Walensky said, "We are now more commonly finding the BA.2 Omicron sub-variant, which makes up about 68% of circulating virus. More recently, we're finding the BA.2.12.1 sub-variant, which was first identified in upstate New York, and which makes up nearly 30% of sequences identified nationally. We are just starting to learn about the impact of BA 2.12.1."
Dr. Rochelle Walensky added that "It appears(BA.2.12.1) it might have a transmission advantage of about 25% over the BA.2 sub-variant. Additional evaluation is currently underway to understand the impact of BA.2.12.1 on vaccine effectiveness. But importantly, we continue to believe that those who are vaccinated and especially those who are boosted continue to have strong protection against severe disease, even from BA.2.12.1."
According to the Centers for Disease Control, there is a high level of community transmission in New York state. The governor's office reported on Friday that central New York's seven-day average case rate was the highest in the state in several weeks.
What did WHO say about BA.2.12.1 Variant?
The World Health Organization agreed with the CDC's assessment, noting that BA.2.12.1 seems to have a growth advantage over BA.2, but cautioning that data is limited.
WHO's Weekly epidemiological update on COVID-19 – 27 April 2022 read, "To date, and with limited data currently available, there appears to be a growth advantage for BA.4, BA.5 and BA.2.12 over BA.2. Currently, available evidence does not suggest differences in severity or clinical manifestations. More data are expected as studies are ongoing."
What did New York state's Health Department Say?
On April 13, The New York State Department of Health announced the emergence of two Omicron subvariants, BA.2.12 and BA.2.12.1, in the state.
Both are sub-lineages of BA.2, which is now responsible for 80.6 % of COVID-19 infections in New York. The subvariants are estimated to have a 23% – 27% growth advantage over the original BA.2 variant.
The Department has been investigating higher-than-average infection rates in Central New York over the last few weeks. State health officials have determined that these highly contagious new variants are likely contributing to the rising cases based on newly available data in the public database.
For the month of March, BA.2.12 and BA.2.12.1 had a combined prevalence of more than 70% in Central New York and more than 20% in the neighboring Finger Lakes region.
According to April data, levels in Central New York are now above 90%. The findings of the Department are the first reported instances of significant community spread in the United States as a result of the new subvariants.
At this time, there is no evidence of increased disease severity caused by these subvariants, but the Department is keeping a close eye out for any changes.
The city now sees nearly 2,500 new cases per day, up from around 600 daily cases in early March. The most recent surge is bolstered by the highly contagious Omicron subvariants known as BA.2.121. and BA.2.
According to Health Commissioner Dr. Ashwin Vasan, New York City has now entered the "medium" risk alert level for COVID-19.
Across the five boroughs, the city has now surpassed a rate of 200 infections per 100,000 people. A rate four times higher than the rate on March 2nd.
Dr. Vasan requested new yorkers, "If you're eligible for your booster, please, get the dose now. The coming weeks will be critical to slowing the spread of COVID-19 and getting back to a Low-risk level so we can more safely enjoy our spring."
Dr. Vasan also advised city residents to get tested for COVID before and after any gatherings.
What did New York State Leaders say?
Mayor Eric Adams said, "We are going to pivot and shift but we are going, to be honest with New Yorkers as we move forward. We are not there yet."
Despite the city being placed on yellow alert, New York Governor Kathy Hochul stated that no shutdowns are planned.
Governor Hochul said, "I'm not here to stand here and say we are looking at shutdowns, I have said I am going to protect the health of New Yorkers, encourage people to get vaccinated, get boosted, get lots of test supplies." and she added, "people are wearing masks all the time. New Yorkers are smart about this."
Although nearly 88% of adults in the NY city are fully vaccinated, the rates in children are lower. Just about 45 percent of adults have got booster doses, which experts think are critical as initial dose protection fades.
Despite the latest viral surge, Covid-19 hospitalizations in New York have remained manageable. Nearly half of those infected with Covid-19 in the state did not go to the hospital.  It was found during routine testing, implying that the COVID cases were mild.
People in the hotspot, which includes Buffalo, Rochester, Syracuse, and Binghamton, should take extra precautions, according to health experts.
What did experts say about BA.2.12.1?
UCSF Infectious Disease Specialist Doctor Peter Chin-Hong said, "It's related to omicron, and it's kind of becoming more dominant. It's estimated to be about 30 percent of the cases in the U.S. It's about 25% more transmissible than even B.A.2, which is itself anywhere from 30 to 80 percent more transmissible than B.A.1."
Chin-Hong isn't concerned about people with healthy immune systems because many of them have developed antibodies to the original strain of omicron.
BA.2.12.1 is not expected to cause another surge in cases, according to Helix, a genetic sequencing company tracking COVID-19 variants. 
However, according to the company, the variant is uniquely growing in the United States, as it has not taken hold in other countries to the same extent.
Harvard University epidemiologist William Hanage wrote to NPR in an email, "It looks like [the variant] has an advantage … It has certainly rapidly grown in some places." 
We all have experienced the bad effects of the Covid-19 virus in our lives, I hope you all know the preventive measures to be taken during a situation like this.
Please Stay safe!.