Son of Omicron New BA.2 Variant, Playing Hide and Seek? (updated)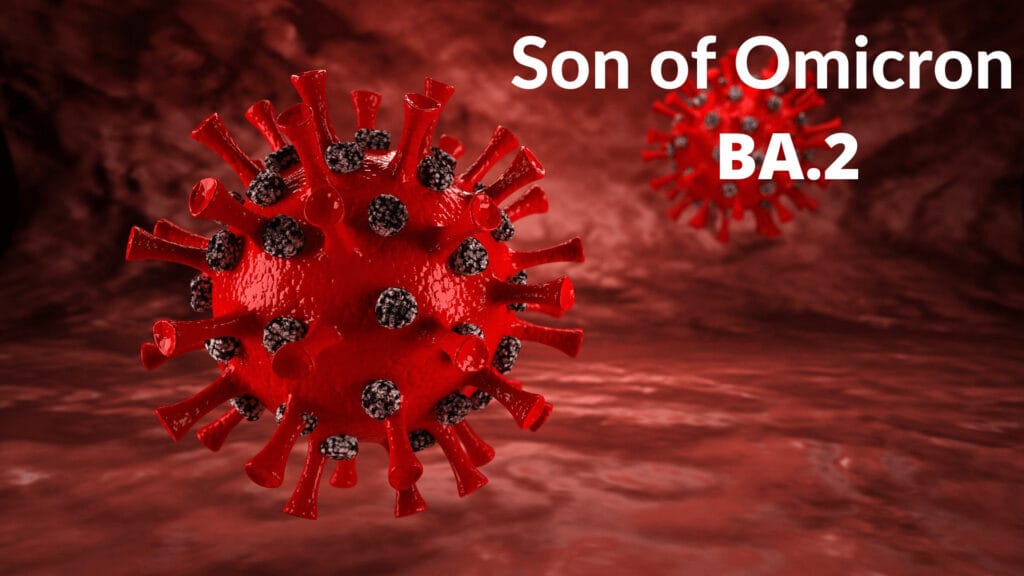 27 January 2022.
Hey there. 
This is BA.2 a New family separated from BA.1.
All in the USA may be aware of our family BA.1 (Omicron). we are the ruling variant now in the USA from the Sars-cov-2 family.
We would like to introduce all of you to a new family BA.2.
They call me "Son of omicron" yes! I'm from a dominant family. and they all fear my stealth mode because I like to play hide and seek.
Our family members at present are dominant in Denmark and in more than 40 countries. we have our family members affecting Human beings as quickly as we can.
Looks like the same we introduce our family or story of self? Yes. 
We have family and the viruses also and they have subfamilies too.
According to WHO Omicron Sars-2-cov has four lineages which include B.1.1.529, BA.1, BA.2, and BA.3. 
All BA variants are from the Omicron family and already we have BA.1 in our country. The BA.1 lineage now accounts for 98 % worldwide. Now BA.2 is the new variant. Let's all pray to have no newborn from BA.3 family.
Based on the information currently available, the total risk associated with Omicron remains quite high.
Omicron has a strong growth advantage over Delta, resulting in rapid community expansion and an increased level of occurrence than previously reported in this pandemic. 
Even though there is a lower chance of severe disease and death following infection than in prior SARS outbreaks, Variants of CoV-2.
What is BA.2 the Son of Omicron?
BA.2 is a New variant of coronavirus, a Subvariant of Omicron Sar-cov-2. Which is called by the nick of " Son Omicron" (Daughter may be in future?)
According to preliminary estimations, BA.2 could be 1.5 times more infectious than BA.1, according to a statement issued by Denmark's main infectious disease authority, Statens Serum Institut (SSI) on Wednesday.
However, the institute's preliminary investigation found no difference in the likelihood of hospitalization between BA.2 and BA.1.
BA.2's some genetic characteristics that make it considerably difficult to detect, this strain of the coronavirus is commonly considered stealthier than the original type of omicron. Some scientists are concerned that it may be more contagious(Omicron already spreading like wildfire).
The first omicron strain, known as BA.1, has roughly 50 gene mutations that distinguished it from the coronavirus's original strain. 
Thirty-six of the alterations were to the virus's spike proteins, which wrap the virus's surface and are the primary targets of vaccinations and treatments such as monoclonal antibodies.
A study published on December 29 in the Journal of Medical Virology discovered that the BA.2 subtype contains 28 changes in its spike proteins, some of which differ from the original omicron strain.
"This is the lineage of Omicron that has had the greatest increase in instances. However, we must be cautious in interpreting this because bigger rises from a very low number are easier to detect "said Ramon Lorenzo-Redondo, an assistant professor of medicine at Northwestern University Feinberg School of Medicine in Chicago.
The BA.2 subvariant appears to be more contagious than the original Omicron variant, according to Danish Health Minister Magnus Heunicke.
During a Monday meeting of the WHO executive board, WHO Director-General Tedros Adhanom Ghebreyesus, Ph.D., stated that the world is in an ideal situation for a new variant to arise. He also stated that it is too early to declare the pandemic's "end game."
More research is needed, according to medical professionals, to discover more about BA.2.
Why is this variant more difficult to detect?
The BA.2 is a subvariant of the omicron variant, which implies it's related to omicron but contains some distinct alterations. The subtype, officially known as BA.2, exhibits minor differences from the original omicron strain but not enough to be considered a distinct lineage.
Because of what is known as "S gene target failure," the original version of omicron had certain genetic traits that allowed health officials to quickly separate it from delta using a specific PCR test.
BA.2 does not share this genetic quirk. So, according to Dr.Long, BA.2 looks like a delta on the test.
"It's not that the test can't identify it; it just doesn't look like omicron," he explained. "Don't get the misconception that because it's a stealth omicron,' we can't detect it. All of our PCR tests are still capable of detecting it."
Where has BA.2 been detected?
Almost 15,000 genetic sequences of BA.2 have been posted to GISAID, a global network for exchanging coronavirus data, since mid-November.
Asia and Europe seem to have a higher prevalence of the mutation. According to Statens Serum Institut, which is under the Danish Ministry of Health, it accounted for 45 percent of all COVID-19 cases in Denmark in mid-January, up from 20 percent two weeks prior.
At least 40 countries were reported BA.2 variant. BA.2 is responsible for only a small percentage of recorded cases thus far, including 5% in India, 4% in the United Kingdom, and 2% in Sweden and Singapore, respectively. Few cases in Norway, South Africa, and the Philippines were reported.
At least four states – California, New Mexico, Texas, and Washington have recorded cases of omicron BA.2. Total 96 of the sequencing cases originated from the United States on Tuesday (25 January 2022).
What did USA / UK scientists and experts say?
That suggests that the latest outbreaks aren't a fluke, according to Dr. Stuart Ray, a Johns Hopkins University professor of medicine.
"That suggests that BA.2 is displacing BA.1 as if it's competing," he says.
However, Ray stated that much is unclear about the situation in Denmark and if BA.2 could produce a comparable surge in cases in the United States.
"We haven't seen it start to gain ground" in the United States, according to Dr. Wesley Long, a pathologist at Houston Methodist Hospital in Texas, which has found three instances of BA.2.
According to Pam Vallely, a professor of medical virology at the University of Manchester, "any variety that appears to be able to transmit more efficiently will generate more cases, and thus likely more hospitalizations." "However, given the little data available for this variant thus far, we are unable to draw any meaningful conclusions."
"We know that omicron… may evade previous immunity" from both COVID-19 vaccines and exposure to other COVID-19 variations, according to James Musser, head of Houston Methodist's Center for Molecular and Translational Human Infectious Diseases Research. "We don't yet know whether son-of-omicron performs better or worse than omicron in this regard. So that's a question that remains unanswered."
Dr. Jacob Lemieux, an infectious disease specialist at Massachusetts General Hospital in Boston, told USA Today, "I don't think it'll produce the same kind of mayhem and disruption, morbidity and mortality that BA.1 did." "I'm cautiously optimistic that we'll keep moving forward, hopefully to a point where each new variant on the horizon isn't news."
More Omicron sub-lineages will "undoubtedly" be described in the future, according to Francois Balloux, professor of computational systems biology and director of the UCL Genetics Institute at University College London. He mentioned that the previously dominant Delta variant D had over 200 sub-lineages before Omicron took over.
"There is still uncertainty about the significance of the mutations to the viral genome," the agency noted in a news release. ( UK health ministry).
"At this time, there is insufficient information to identify whether BA.2 causes more severe illness than Omicron BA.1, however, data is limited and UKHSA is continuing to investigate," said Dr. Meera Chand, COVID-19 incident director at UKHSA.
Should we worry about the new variant?
No. the mutations, new variants are common in Sars-coV-2 Viruses.
We have already seen the variants, starting from Alpha, Beta, Gamma, Delta, and now the Omicron. This BA.2 a Subvariant from omicron. 
According to the above-discussed pieces of information, BA.2 is bit more contagious a bit more difficult to identify in PCR tests. 
Experts need more data to get a conclusion.
We have to follow the guidelines from CDC to protect ourselves and others.
Get vaccinated, Get your booster dose, if you are eligible.

Wear a High protective mask.

Take Covid Tests 

Maintain social distancing

Follow other guidelines from 

CDC.
The website outbreak.info keeps track of the average daily and cumulative prevalence of BA.2 in the United States and other countries.
Stay updated! Stay Healthy!