Covid-19: Why Do You Need a 4th Shot? What does Pfizer CEO say?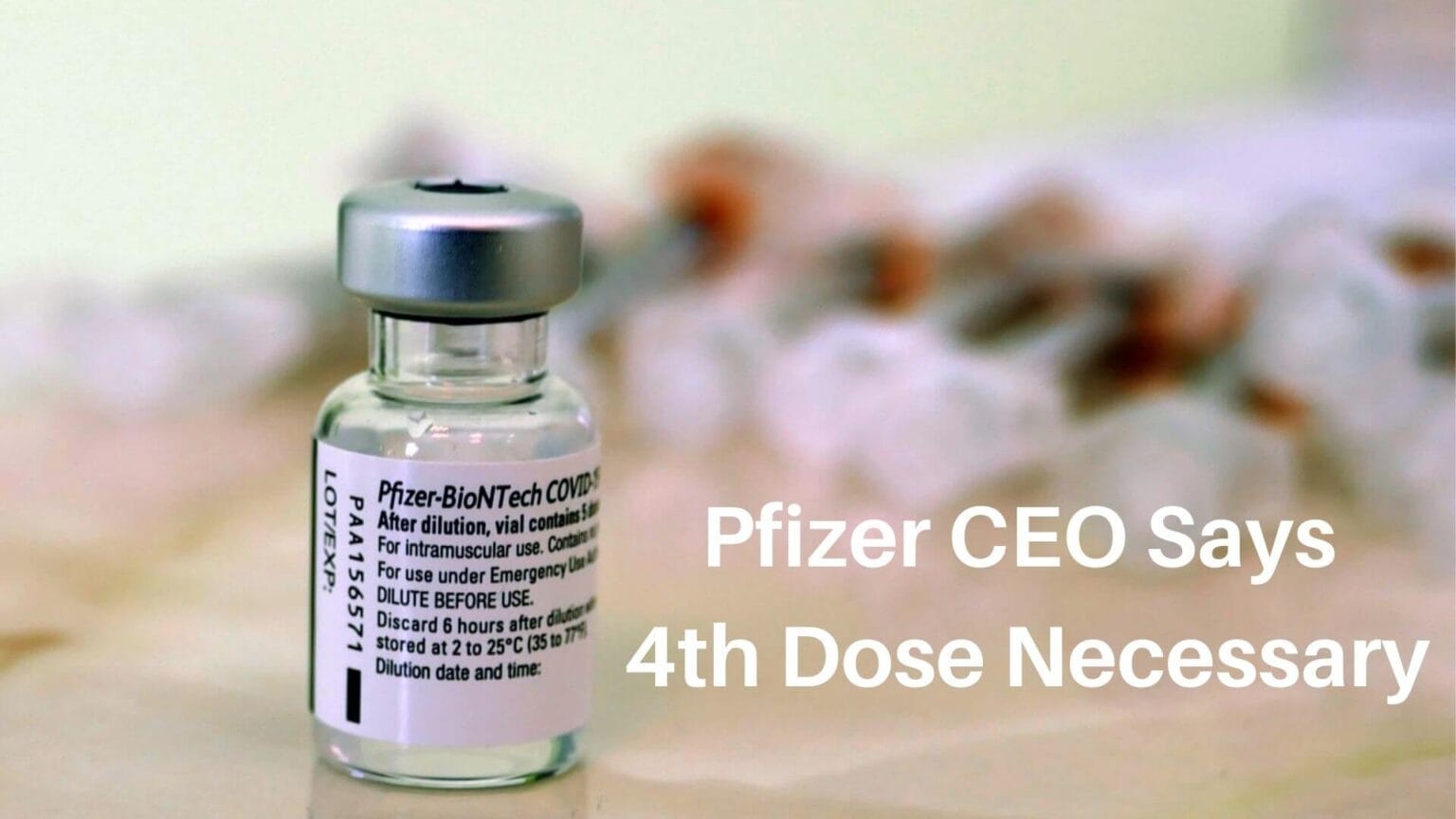 March 14, 2022. 3 Minutes Read.
Covid-19 Vaccine shots may soon become a yearly task on your to-do list, similar to the flu shot.
According to the Centers for Disease Control and Prevention, approximately 81.4 percent of the American population aged five and up have received at least one dose of one of the three vaccines (Pfizer, Moderna, and Johnson & Johnson) approved in the United States. 
Pfizer CEO Albert Bourla said on Sunday that a "fourth COVID vaccine shot will be required to keep hospitals and morgues quiet due to the waning of vaccines' effectiveness, particularly on variants like omicron.
During an interview on CBS's "Face the Nation" on Sunday, host Margaret Brennan questioned if a fourth booster shot is necessary.
"It is necessary, a fourth booster right now," Bourla answered. "The protection that you are getting from the third, it is good enough, actually quite good for hospitalizations and deaths."
Bourla has previously stated that a fourth dose is required due to the spread of COVID-19. According to NBC News, the pharmaceutical giant will soon present the data on the fourth vaccine to the Food and Drug Administration.
However, it is unclear whether or not the US Food and Drug Administration will approve the fourth dose of the Covid-19 vaccine for healthy adolescents and adults.
Affiliate Disclosure: A few links on this page are affiliate links, from which I receive a small commission from sales of certain items, but the price is the same for you. Thank you for the Support.
According to CDC, Currently,
 Anyone aged 12 and up who received a second dose of the Pfizer vaccine at least five months ago can now receive a third dose.
Anyone aged 18 and up who received the two-dose Moderna vaccine should get a booster shot six months after the second dose.
Anyone who received the single-dose Johnson & Johnson vaccine gets a booster shot after two months.
Some moderately or severely immunocompromised people who have received three doses of the Pfizer/BioNTech or Moderna Covid-19 vaccines can already receive the fourth dose.
Children aged 5 to 11 are currently eligible for two pediatric doses of Pfizer's Covid-19 vaccine, but not for a booster.
Pfizer is currently testing the third dose in that age group.
In addition, children under the age of five are not yet eligible for the Covid-19 vaccine, though this may change this spring, according to Bourla.
Initial trial data in children ages 2 to 5 revealed that two doses of a smaller, child-sized vaccine did not provide the expected immunity in the 2- to 5-year-olds – but did in babies ages 6 months to 2 years.
As a result, Pfizer decided to include a third child-sized dose in its ongoing trial for children under the age of five.
Pfizer expects to have data from its three-dose vaccine trial for children aged 6 months to 5 years by April.
Covid-19 vaccines for children aged 6 months to 5 years could begin as soon as the FDA approves them and the CDC recommends them.
Pfizer and Moderna have stated that they are developing a vaccine that will protect against the Omicron variant. It is unclear whether one is required at this time.
Pfizer also hopes to develop a vaccine that will protect against Omicron and all other variants of SARS-CoV-2, the virus that causes Covid-19, according to Bourla.
The goal is to produce "something that can protect for at least a year," Bourla told CBS on Sunday.
"And if we are able to achieve that, then I think it is very easy to follow and remember so that we can go back to really the way (we) used to live," he said.
Additional Booster / Fourth Dose in other Countries
Israel's prime minister, Naftali Bennett, announced in January 2022, that the country would provide a fourth dose of the COVID-19 vaccine to healthcare workers and people over the age of 60. A fourth dose has already been approved for immunocompromised Israelis.
The Swedish Public Health Agency announced at the end of Feb 2022, that second booster doses are now recommended for all people aged 80 and up in the country. 
DHSC in the United Kingdom announced last month that adults 75 and older, residents of care homes for older adults, and immunocompromised people 12 and older will be given an extra booster dose of coronavirus vaccine in the spring.
Germany's The Standing Committee on Vaccination (STIKO) 
recommended fourth Vaccine shot, for people over the age of 70, nursing home residents, people with immunodeficiency, and health care workers.
#pfizer #covid-19 #vaccine #Booster #Boostershot #4thshot #fourthdose #pfizerceo #kidsvaccine #CDC #FDA #boosterjab #Childrenvaccine #corona #omicron